Oregon Clandestine Street Fight
Video CD -- Robot Combat on your computer
---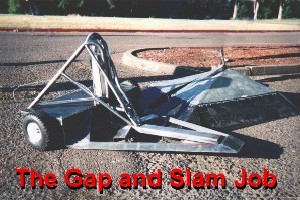 It was a hot July afternoon and the finest heavyweight and super-heavyweight combat robots in the Northwest gathered at an undisclosed location to test their mettle.
No TV coverage - No spectators - No prize money
No trophies - No scale - No clock - No rules
Myq Clift had a video camera running and now you can see the highlights of this wild event on your computer with this DIV-X format video CD.
---
Video footage of battles and aftermath:
Slam Job vs. The Gap - a ranked heavyweight overhead pneumatic spike against the highest lift-bot in Robot Wars. Will the spike find a target before the lifter gets under the skirts? Which 'bot can recover and/or survive?
The Gap vs. JuggerBot 3.0 - high lifter against rambot, maneuverability against speed, spatula against flapjack? You'll need pencil and paper to keep track of the weapon hits, hazard damage, inversion recoveries, and strategy changes in this marathon battle!
Rosie the Riveter vs. Tillah - Oh the humanity! Tillah is the latest 'bot out of the JuggerBot camp. Ask them how much power the drum weapon has and they just smile. Listen for the team members yelling for the drivers to stop the match!
Tillah vs. Chevy Van Door - bonus footage of Tillah working out against a late entry. Turn up the sound!
Strike Terror vs. Chevy Van Door - you've never seen a weapon like the one mounted on super-heavyweight 'Strike Terror'. Wild weapon gyrations and an unearthly whine when the weapon winds up left us fearing for our lives! Spot the teams in the background hiding behind trees.

UPDATE -- The latest version of the video CD comes with:

All video files in DIV-X format for your PC;
All video files in MPG4 format for iPod video;
A DIV-X video player in case your player doesn't support the DIV-X; and
A bonus robot combat game demo for Windows.
- Video and audio copyright Myq Clift, 2002 - used here by permission -
---
How do I get one?
I'm throwing in a copy of the Oregon Clandestine Street Fight CD FREE with each purchase of a Team Run Amok embroidered cap! Keep reading...
Custom embroidered logo on the finest caps I could find. Heavy all-cotton canvas, six-panel construction with stitched vents, and a cloth adjustment strap with metal buckle and snap. Khaki with blue visor and top button. I bought these for our own use, and had a small number of extras stitched up. My embroidery guy is a robot fan, so I got a great price!
Included with each hat is a copy of the Oregon Clandestine Street Fight video CD and an autographed set of two robot trading cards featuring 'The Gap' and 'Run Amok'. These are number 1 and 2 in a series of full-color, collectable cards of combat robots. Start your collection today!
---
Card Collector Bonus
Team JuggerBot has the next three cards in the series!
Visit them and ask how to get a set of their cards.
---
You can reach Team Run Amok by e-mail at: joerger@toast.net
---