REVERSING THE DIRECTION OF THE BOT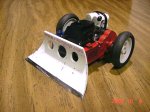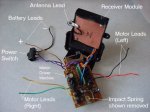 You may have noticed that Blizzard and a couple other of our Battlebot toy-based bots drive backwards from how the toy comes. In order to do this, you must swap the motor wires from one side to the other. Refer to the picture at the left to understand the wires. You will have to have the drive gearboxes dis-assembled for this operation
1) Mark the motors so you know which wire lead went to which motor terminal (Green and Yellow, Red and Black)
2) You'll need to lift up the motor driver card again to free up the wires to get as much slack as possible.
3) Unsolder the wires from each motors.
4) Cross the red/black and green/yellow wires over to the opposite sides of the chassis so the ends are accessable for re-soldering. Route the wires so that you run the shortest distance and have the maximum amount of wire sticking out.
5) Screw the motor driver card back down. This helps give you a few more millimeters of wire to play with during re-soldering.
6) Resolder the ends of the wires to same place on the motors that you took them off from (remember you marked the motors!).
7) Re-position the motors back into the chassis. Be careful to get that cylindrical capacitor into the cavity of the chassis and not pinching wires.
8) Re-assemble everything and the front should now be the rear, and the rear the front.