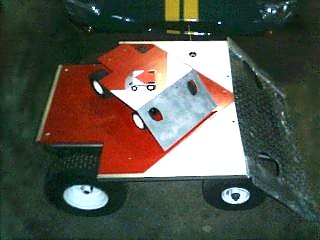 Take your pick:

* Regular - 44" length, 170 pounds;
* Mini - 17" length, 4 pounds; and
* Micro - 4.4" length, 1/4 ounce.

After our victory at Robotica, my son Aaron Joerger (then aged 9 years) wanted a 'bot to drive, and I was a little hesitant to turn him loose with 172 lbs. of steel and aluminum, so 'Mini Run Amok' was born. You can make your own paper 'Micro Run Amok' model here.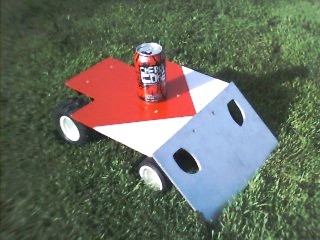 Mini Run Amok is a 40% scale model of the original. It was built on a "Monster Beetle" R/C chassis. It drives very well -- nearly as fast as the full-scale Run Amok.

Mini Run Amok is not built for combat, but it makes a great pit toy and is fun just to drive around. It's good driving practice, too!

The R/C chassis used for Mini Run Amok had another role in our robotics career as The Robot That Never Was.