---


In Memoriam: Aaron Joerger, 1991 - 2013

---

The 'Ask Aaron' project was important to Aaron, and I continue the site in his memory. Thank you for the many kind messages of sympathy and support that have found their way to me. Aaron's obituary.

- Mark Joerger

---
Twentieth Anniversary Year!
March 4th, 2021 marked the 20th anniversary of Team Run Amok's victory at Robotica. The final fight took place at about 2:50 AM and it had been a very long day. Since that time, we've won a few more championships and we've been on the podium at more than half the events we've entered. We've organized three Antbotica competitions, traveled to compete in England twice, and answered nearly 7000 questions about combat robotics at the Ask Aaron page. We're still at it, albeit with a heavy heart.

I have several plans to mark our anniversary year. For a start, I've restored a number of our first-year web pages:
Stay tuned for more Team Run Amok updates and surprises for our 20
th
anniversary year!
---
Taranis Q-X7 Combat Guide
I've been fielding a wide range of questions about using the Taranis Q-X7 transmitter for combat robots. The OpenTX firmware used in the Q-X7 offers features previously unheard of in a transmitter priced below $100, but the user interface is radically different and intimidating for even experienced radio users.

My FlySky FS-i6 transmitter combat guide has proven a popular addition to the Team Run Amok library of combat robot radio publications. I decided to author a guide for the Q-X7 based on the format of the FS-i6 walk-thru, but concentrating on step-by-step examples setting up functions commonly found in combat robots. Working through these examples should take the mystery out of the OpenTX firmware.
Taranis Q-X7 Transmitter Guide
---
How is Robot Combat Doing?
It's been a while since I updated my charts of combat robot tournements and matches by year. The data for the first chart comes from the events reported to SPARC Botrank. You can see the big boost in activity from the BattleBots reboot in 2015, but you can also see that participation fell off sharply in 2019. The 2020 season will of course be a disappointing and we'll have to guess at what might have been.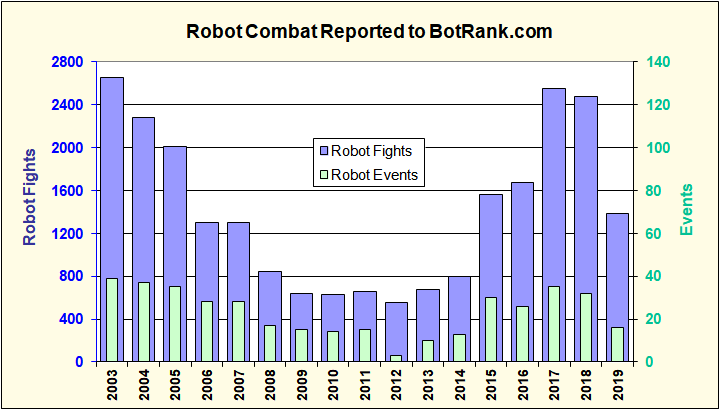 The data for the second chart comes from combat event registrations at Builders Database. The site reports robots registered rather than fights, so it's not directly comparable to the first chart. Not all events report results to BotRank, and not all events use BuildersDB for registration -- but both charts show similar trends.
---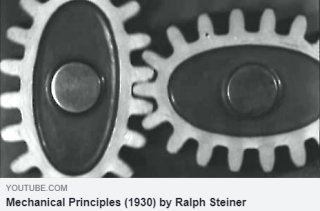 Mechanical Inspiration
This short video is almost ninety years old, but I turn to it frequently when my mind is stuck on a mechanical problem and I need inspiration. I've queued it up to my favorite section about half-way thru, but you'll likely want to rewind and watch it again from the beginning.
Ralph Steiner Mechanical Principles 1933
If you have an interest in exotic mechanisms, I can also recommend the Mechanisms and Mechanical Devices Sourcebook by Neil Sclater. I found and purchased a used copy of an earlier edition at a good price online. A great book just to browse for ideas.
---
'Deadblow' Awarded Honorary HoF Membership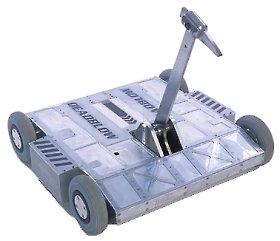 Combat robotics lost one of its most prominent faces in 2020. Grant Imahara first entered the public eye as a BattleBots competitor with his middleweight robot 'Deadblow' -- competing in the inaugural 1999 Long Beach tournament and all five seasons of the televised BattleBots series on Comedy Central. Together they won 'giant nut' trophies for rumble wins at Long Beach and Season 2.0, and for a runner up tournament finish at Season 1.0 behind Hall of Fame member 'Hazard'.
In recognition of Grant's contributions to combat robotics, 'Deadblow' has been inducted into the Combat Robot Hall of Fame as a unique Honorary Member. Grant will be remembered for his bright personality and achievements in many fields, but please also remember that he built and operated a fine combat robot. He will be greatly missed in the combat robot community.
---

Who Invented Robot Combat?
Most robot historians cite Marc Thorp's 1994 'Robot Wars' event in San Francisco as the origin of robot combat as we know it today. Modern combat robots can all trace their roots back to the sixteen robots that competed in the 'Face Off' tournament at that event. However there are records of earlier fighting robot events that failed to ignite public interest -- and a couple of those tournaments survive to this day like lost islands of prehistoric reptiles.
The earliest documented public combat tournament took place in 1989 (some sources say 1987) at the 21st Annual MileHiCon Sci-Fi/Fantasy convention in Denver, Colorado. The inaugural 'Critter Crunch' tournament was organized by the quirky and elusive Denver Mad Scientists Club and remains a part of the MileHiCon to this day (current ruleset). Wired magazine has a nice article about the first Critter Crunch.
In 1991, the Atlanta 'DragonCon' Pop Culture convention began hosting 'Robot Battles' using a ruleset derived from the Critter Crunch. Robot Battles is a continuing event at the convention, and has spread to other venues as well.
Anyone interested in the early history of robot combat should obtain a copy of 'Gearheads' by Brad Stone. It's a fascinating read.
See also: Combat Robots in 1988?.
---

'Ask Aaron' Website Answers 6800th Question!
When my son Aaron and I started the 'Ask Aaron' website, we didn't even know there WERE 6800 questions about combat robots. Aaron started the site in 2003 to discuss robots and learn more about robotics by researching answers he didn't already know. I took over the answering duties in late 2013.
Got a question about combat robotics? Why not Ask Aaron?
---
Combat Robot Hall of Fame
Literally thousands of combat robots have fought since the first Robot Wars in 1994. Which do you think were the absolute best? Team Run Amok founded the Combat Robot Hall of Fame in 2003. We polled members of the robot community to select the initial 25 inductees. Robots from both sides of the Atlantic gained membership based on:
Dominating success in combat;
Pioneering or perfecting influential designs;
Having great fan or entertainment appeal; or
Otherwise making a lasting impact on the sport.
The 2019 inductions raised the full member count to 42, with 36 robots attaining Honorable Mention. Notification and balloting instructions appear in combat robot forums in the US, UK, and Australia in August of odd-numbered years. Stop in at the Hall and welcome new 2019 full members 'Bite Force' and 'Silent Spring'.

Take a tour of The Combat Robot Hall of Fame.
---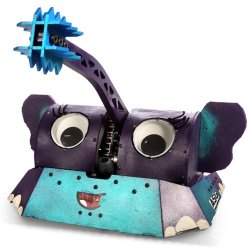 BattleBots: An Honest Build Log
Do you want to know what it's really like to build a heavyweight combat robot for a big time televised tournament? Sarah Malyan has written an honest and gritty log covering her team's build of an elephant-themed hammerbot to compete at Discovery BattleBots. She covers it all: doubting design choices, dwindling resources, all-night sessions, time-eating details, compromises, anger, frustration, last-minute on-site fabrication, jet-lag, googly eyes, and the terror of tech inspection.
This is the real stuff. If you've ever thought about applying to compete at a big event you owe it to yourself to read and believe every word in this log. Sarah has promised more posts covering the team's experiences in the tournament as the episodes are broadcast, so be sure to check back for the updates.
Nelly the Ellybot Build Diary
---
Twenty-Five Years of Robot Combat: 1994 to 2019
The first Robot Wars competition took place at the Herbst Pavilion at Fort Mason Center in San Francisco on August 20th and 21st, 1994. Here's a first person account of that first event by one of the competitors: Team Minus Zero.
The first seven years of robot combat were frantic and exciting, with huge media exposure and hundreds of active competitors in Europe and North America. Then came a long downhill slide in popularity and participation. Yet there still remain a few devoted teams working late into the night to build machines designed to pulverize the creations of other fanatical builders. Now a new surge of enthusiasm for combat robotics spreads across South America and the Indian subcontinent, and fresh leadership has appeared in the United States. Fight on, roboteers!
---
Combat Guide: FlySky FS-i6 Transmitter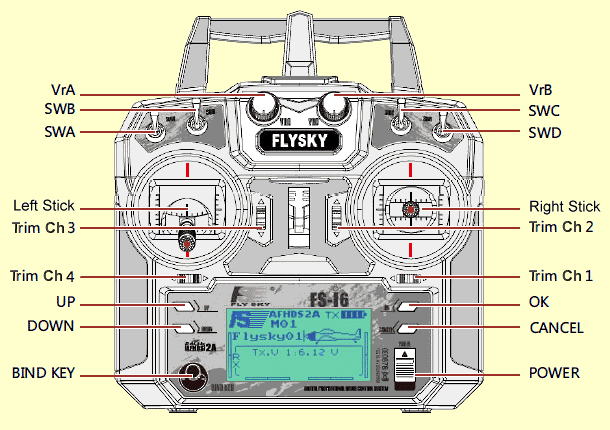 The rise of inexpensive Chinese R/C gear has had a large impact in combat robotics. The lists of features on these radios are impressive and the prices are amazing, but the documentation is horrible and the menu systems can be maddeningly frustrating. The FlySky FS-i6 has become the most popular of these Chinese radios.
I'm not a fan of 'going cheap' on combat radio gear, but I also don't like to see builders struggle with an important aspect of their robot's performance. If you're going to use one of these radios you're going to need some help to set it up properly. This guide will save you time and trouble.
FlySky FS-i6 Combat Robot Setup Guide
---
Spring Powered Flipper Weapons
Pneumatic flipper weapons are awesome but their complexity can be troublesome, particularly in smaller combat robots. Flippers powered by mechanical energy stored in springs or elastic bands could offer attractive alternatives to pneumatics if designs that use electric gearmotors to trigger and reset spring flippers were better known to builders. I've put together animations and discussion of four poorly known spring flipper designs and wrapped them up in a new webpage. Take a look; it might light a fire in your imagination.
Ask Aaron: Four Spring Flipper Mechanisms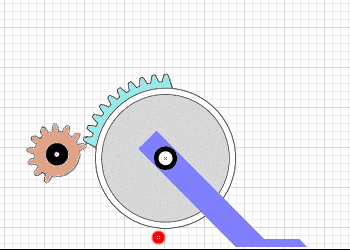 ---
Robert Cowan YouTube Channel

There once were a great many combat robot build logs out on the 'net. A new builder could learn from the experiences of other builders and find answers to questions they didn't even know they had. Now there are very few builders that even maintain websites, and fewer still who are willing to share their build secrets.
Fortunately, builder Rober Cowan has taken on the task of providing well produced videos of the intimate details of building a combat robot, as well as other tech projects he undertakes. His YouTube channel page is here. You might want to start with his video series on his antweight robot 'Sgt. Cuddles'.
---
Combat Robots in 1988?
Six years before the first Robot Wars, a group of toymakers got together to melt each others' creations in a battlefield filled with road flares and flaming lighter fluid. It looks a lot like robot combat to me!
1988 Terminator Tournament
The contests continued irregularly for many years. Here's video from the 2009 event:
2009 Terminator Tournament
---
T.i. Combat Robotics Website Goes Dark
The resource-packed website provided by Total insanity Combat Robotics shut down in October of 2015. Most of the content is still accessible from the Internet Archive: Archived T.i. Combat Robotics. However, the Archive does not have a copy of the popular T.i. Four Bar Lifter Simulator.
With the permission of the simulator's author Adam Wrigley, Team Run Amok has created a 'mirror' of the Four Bar page where you can download the simulator software. We are also working with Adam to update the software to run on current Windows computers, but for the moment you will need to install the simulator and the required .NET Framework 1.1 on a pre-Windows 7 machine.
T.i. Four Bar Simulator
UPDATE: Another of the T.i. technical pages was in need of salvage. Adam Wrigley's 'Designing Around the Gyroscopic Effect' page has an understandable analysis of the math behind the 'gyro dance' many vertical spinner 'bots fight. A javascript calculator at the bottom of the page lets builders model the gyro effect of specific weapons on their robot design. I've organized the analysis into sections, cleaned up the javascript, and ported it to our website.
Designing Around the Gyroscopic Effect
---
Robotica Sounds Page Update
Someone on Reddit noted that our 'Robotica Sound Clips' page was showing it's age and had unpredictable behavior in sound playback. Given that I hadn't looked at the page in fifteen years was a miracle that it worked at all! I took a few minutes to update the code to something that modern browsers can appreciate. Same classic Robotica sounds, shiny new sound console players. Go retro and give a listen!
Robotica Sound Clips
---
JavaScript Spinner Weapon Calculator
More than a decade ago I wrote the Run Amok Spinner Spreadsheet that models the performance of a combat robot spinning weapon based on the weapon's size, shape, material density, motor, and drivetrain. The spreadsheet has proven itself to be a useful tool in the design of combat spinner weapons, but it does require Microsoft Excel to operate.
The new Run Amok Spinner Calculator runs in your web browser. It's 'mobile friendly' and provides the same performance calculations available in the spinner spreadsheet. The full spreadsheet offers nicer graphic output and a battery capacity estimate, but the new calculator is convenient if you want to quickly model a spinner design on your phone or tablet.
Full release version 1.02 is on-line now. Give it a try and let me know what you think:
JavaScript Spinner Weapon Calculator v.1.02
And a few refinements made in the spinner calculations for the JavaScript version of the calculator have made their way back into a new release of the Excel spreadsheet version. Update your copy:
Spinning Weapon Spreadsheet v.19d
---
BattleBots Allows Complete Spare 'Bots in their 'Tournament'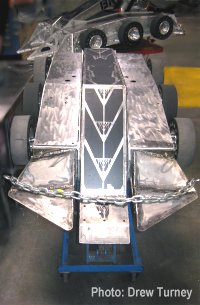 This was first confirmed at ABC BattleBots 2016 where several teams had duplicate robots, complete and ready to fight, waiting in the pits if needed. See the actual pit photo of the twin 'Broncos' at right. At least one team swapped in a spare 'bot for a fight because it was 'convenient'. Traditionally you have one robot and a limited amount of time to repair the machine between rounds; bringing in a whole new robot has never been allowed in robot combat -- until now.
Why the big change?
I suppose it helps if you don't think of 'BattleBots' as an actual robot tournament. Think of it instead as a major network TV reality show with huge production costs. The producers don't want to wait around with the clock running while a team struggles to repair a badly damaged robot. Pretty much anything goes to keep the filming on schedule.
I'm told that the selection of teams that received a 'second chance' slot after a defeat was based largely on who was ready to fight. That makes having a complete spare 'bot an appealing - if expensive - option. This practice throws a strong advantage to better financed teams.
BattleBots has long made 'sporting compromises' to favor television. Starting in Season 3 of the original Comedy Central series popular robots were allowed to sit out the first several rounds of the tournament, giving them battle-weary opponents and a better chance at making the finals.
---
Tentacle Combat Robotics Torque/AH Calculator (reloaded)
Several years back, Steve Judd of Tentacle Combat Robotics wrote an on-line application to model combat robot drivetrains. The app allows builders to explore the performance of specific robot designs with a wide variety of commonly used electric motors. The tool has proven itself to be an invaluable design aid in matching motors, gearing, wheels, batteries, and speed controllers to provide optimum performance in robots of any weight class.
Steve Judd was a highly respected builder and a selfless supporter of combat robotics. His death in 2010 was a great loss to the community. Following Steve's death, Team Run Amok adopted the task of maintaining and updating the calculator. We have revised the layout and format of the main screen, added support for new motors, and expanded the help file system. Support for the calculator is available thru our Ask Aaron website.
Tentacle Drivetrain Calculator (reloaded)
Richard Stuplich from Team Killerbotics also maintains an updated version of the torque/amp calculator: Killerbotics Torque/Amp-Hour Calculator. A copy of the original version of the calculator is available in the Run Amok archives.
UPDATE: In response to multiple requests for assistance in using the Tentacle calculator I've added a walk-thru of an example drivetrain analysis. The walk-thru can be accessed from a link in the calculator help page, or directly from this link:
Example Drivetrain Analysis using the Tentacle Torque Calculator
---
Updated Robot Combat Tournament Trees
Interest in the RoboGames tournaments has led me to piece together their tournament trees. Complete trees for 2004 thru 2018 are up. The weight-class winners and links to full match results for RoboGames and other major tournaments can be found at:
Major Combat Robotics Tournament History
The archive contains trees and rules for: U.S. Robot Wars ('94 thru '97), U.K. Robot Wars (all ten wars plus the world championships), Robot Wars Extreme Warriors (2001 and 2002), Robotica (all three seasons), BattleBots ('99 Long Beach thru 2018 Discovery), the RFL Championship Tournaments (2004 thru 2006), and now the complete set of RoboGames tournaments.
There are also links to archive photos of the 1995 and 1996 Robot Wars robots. Click on any '95 or '96 weightclass 'result' and follow the photo link.
---
What Weapons Win? Updated!
Do spinning weapons win more robot combat matches than wedges? Are active weapons better than passive rammers?
In 2006 I ran a statistical analysis of combat robot tournaments for the prior year to compare the performance of robots with kinetic energy spinning weapons to other 'active' weapons and to robots with passive weapons. The results surprised many builders!
There have been significant changes to spinner weapons in the last ten years -- brushless weapon motors, exotic single-tooth impactors, much higher energy storage -- so I decided to re-do my analysis with current data. Once again, the results are surprising:
Spinner vs. Wedge -- 2016 Update
---
Talon SRX Speed Controller – Combat Robot Quick Guide
The Talon SRX from CTR Electronics is a robust and capable brushed motor speed controller that should be finding broad use in larger combat robots. The controller was developed for use by competitors in the FIRST Robotics Competition with interface and control options that far exceed the needs of combat robotics. All those options inflate the size of the 'user guide' to 40 pages plus a 'software guide' that runs another 140 pages. The size of those manuals make it difficult find the information needed for combat applications.
I consulted with builders who have used the Talon SRX in combat applications and edited the manual down to a 'Quick Guide' just 3 pages long. The quick guide contains only the information needed to install and set up the Talon SRX in your combat robot.
Talon SRX Quick Guide
---
Combat Robotics on the Rise in Russia!
While nobody was watching there has been a surge of interest in robot combat in Russia. There were two tournaments in 2015: 'ArmorBot' in Moscow (100kg and 50 kg classes), and 'Rise of the Machines' in Perm (60kg class). Lots of new builders making new builder mistakes, but the matches are fun.
Here's a page of competitor photos: Imgur: Rise of the Machines 2015 bots gallary 1 -- gallary 2. Most of the 'bots look like they came from the same shop -- look carefully at the construction details. I think all the armor is painted foamcore that rips away to make a better show. The event sponsors put on robot events for hire, and I suspect they build all the 'bots as well.
---
Golden Age Robot Combat Videos
Robot combat historian Nate Franklin has been very busy collecting videos from the 'Golden Age' of the sport. Check his YouTube Playlists for hundreds of videos.
---
Robot Combat on Television is Alive and Well -- in Korea?
It seems that Korean television has been hiding a robot combat competition called 'Robot Power' for the last decade or so. Best I can tell the show started in 2005 and ended in 2011 There are quite a few episodes available for viewing on YouTube: here's the first episode (I think).
The show is rich in computer graphics depicting fanciful robots on other-worldly arenas, but the competition itself is mostly wedge robots wandering around an arena and sometimes bumping into each other. There are races, arena combat, and even some small humanoid walkers in later episodes.
---
A Tribute Video from a Fan - Run Amok at Robotica!
Wow, I've never had a tribute video before. It took thirteen years, but I'm terribly grateful. Music by Ahmet and Dweezil Zappa.
---
Spinner Spreadsheet
I get a lot of requests from robot builders for help calculating the spin-up time and effectiveness of their spinning weapon design. I've written an Excel spreadsheet to calculate the Moment of Inertia, spin-up time, and total energy for spinning discs, bars, drums, and combinations of these shapes. The newest version (19d) allows accurate modeling of brushless motors and adjustments to 'SimonK' controller firmware. Let me know if you find it useful.
Spinning Weapon Spreadsheet
If you're interested in the physics of spinning weapons, I recommend reading Paul Hills' Spinner Guide.
UPDATE: We've been getting a lot of questions about electric powered overhead hammer/axe weapons. To analyze their performance I have been using a customized version of the Spinning Weapon Spreadsheet re-focused to look at the first revolution a spinner weapon makes when spinning up to speed. I took some time to make this custom version 'friendlier' and more accurate, and I added a graphic output. I don't generally recommend electric hammer weapons because their energy output is very small compared to a full spinner weapon of the same mass and power source, but if you want to explore their design this spreadsheet can help.
Overhead Electric Hammer Weapon Spreadsheet
---
The First Self-Righting Robot?
Early on in the history of combat robots, builders discovered that an overturned robot was toast. The number of robots designed to overturn their opponent began to increase and countermeasures were needed. Invertible robots, able to continue operating when flipped over, are immune to an overturning attack -- but designing for invertibility will either limit or complicate weapon and armor choices. A better solution might result from an active mechanical means of returning an incapacitated overturned 'bot to correct 'wheels down' orientation.
So, who was the first immobilized robot to save itself by self-righting? Several claims have been made for assorted robots under differing conditions, often relying on arena walls or intervention by another robot. Here are the best candidates, in my opinion, for first true self-righting:
US Robot Wars 1996: Carlo Bertocchini's 'Biohazard' had just won a match against rival 'Vlad the Impaler' by pinning Vlad against the wall for 30 seconds. The match was called and Biohazard backed away. Vlad, apparently disappointed at the loss, turned and used its pneumatic lifter on Biohazard to flip and immobilize it. Biohazard was able to self-right by use of its electric lifting arm. This is generally believed to be the first display of self-righting at a tournament, but it took place after the conclusion of a match and had no bearing on the outcome.

US Robot Wars 1997: Gage Cauchois' 'Vlad the Impaler' had a dedicated pneumatic device that could quickly and repeatedly pop Vlad back upright from an inverted orientation. The device was successfully used to self-right from an immobilized position in an early round match against Biohazard, but Vlad lost the match in a judge's decision.

UK Robot Wars 1998: Rex Garrod's 'Cassius' was immobilized when it was turned upside-down by a House Robot during 'The Gauntlet' phase of the competition. Cassius used its pneumatic flipping arm to jump back upright and complete the Gauntlet. Cassius avoided elimination and went on place second overall in the tournament.
There you have it. Biohazard was the first to demonstrate reliable self-righting in a tournament setting, Vlad the Impaler was the first immobilized robot to right without assistance in a tournament match, and Cassius was the first immobilized combat robot to use a self-righting mechanism to save itself and continue in a tournament. Take your pick; they are all great robots and all members of The Combat Robot Hall of Fame.
---
The Robot That Never Was
Here's the untold story of a mock-up robot that just may have been the key to Team Run Amok's acceptance into the Robotica competition. The robot never had a name and it never was fully operational, but without it our whole robot combat career may never have made it off the ground.
The Robot That Never Was
---
Robotica Ring Tone?
I've had several Robotica sound clips available for a while in .WAV format, but I just recently converted them to .MP3 to make them a better match for portable applications. The "Robots Ready" clip makes a great ring tone.
Visit the Sound Clip Page and turn up your speakers.
---
The Rise and Fall
Bill Gurstelle, author of magazine articles and multiple books on fringe technology has an entertaining post on his "Notes From The Technology Underground" blog called The Rise, Fall, and Rise of Robotic Combat. It's an interesting perspective, if not entirely accurate.
I have a review of Mr. Gurstelle's book, "Building Bots" on my book review page.
---
Antbotica!
Growing just a little tired of the usual robot combat scenario? Looking for something a little more challenging? Why just trash a field of robot competitors when you can out-think, out-maneuver, and just plain out run them?

The Antbotica competition has four different challenges for one-pound robots:
Dodge and run in the 'Shuttle Race'.
Chase strategy and your opponent on the 'Scramble' playground.
Show off your power and control in 'Pushover'.
Make gravity your friend in the 'Showdown'.
Check the rules and results and start building for the next event.
---
Gyros!
Remote control combat robots have stability problems. Two-wheeled 'bots don't want to go straight, and four-wheeled 'bots don't want to turn! We can borrow a little technology from R/C helicopter pilots to make the job of driving them a little easier.
The Beginners Guide to Combat Robot Gyros.
---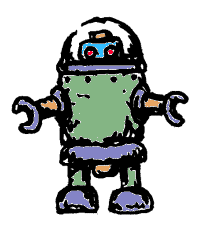 You Be The Judge
Working as a judge at a combat robot tournament is no picnic! Get the match right and everybody nods, but if the crowd doesn't like your call they let you know. Try scoring the five example matches given here and you can see just how tough it can be.
What counts more, a flip or a bash? How many points for smoke? Rip off a wheel - does that win the match for you? Is it better to do damage early or late in the battle? What counts as 'aggression'?

You Be The Judge.
---
Battbotica Wars
Think that robot combat is all guts and glory? You may want to think again after you read this list of things that actually happened to Team Run Amok and our friends on journeys to robot combat tournaments in the U.S. and England.
Did you know that laundromats are illegal some places?
Why do my socks smell like spray lube?
How do you feel about french beer?
Battbotica Wars.
---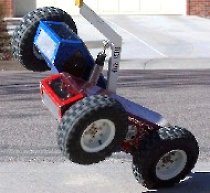 Gallery Update
My collection of pictures and info on the competitors from the inaugural Robotica competition has been a popular part of the website for a while. Lately, I've received requests for pictures and info on the competitors from seasons two and three. I've scrounged info on almost all of the competitors -- take a look, and if you have material for any of the missing competitors, send it my way!
Robotica Gallery
---
Robotica Journal

What was it really like to compete at the inaugural Robotica? Right after I got back from Robotica, I wrote down all the behind-the-scenes bits and happenings for my own files. There are a few things in here that have never come to light 'til now. I also put my favorite picture from Robotica in here.

Take a look: Robotica Journal




UPDATE:

September, 2017 - I've crawled thru archived websites and dug thru my files for photos from 'Robotica' before the gulf of time swallowed them. I added a selection of these photos to the 'Robotica Journal' and freshened the layout. I think it's an improvement.
---
Posters?
I'm searching for posters from the early ('94 thru '97) Robot Wars. Got one rolled up in your closet? Have one taped to the workshop wall? There are hundreds of these posters out there -- why can't I find any??
Write to me!
---