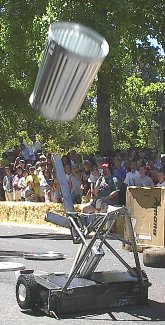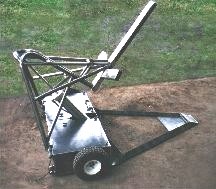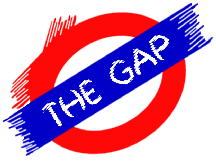 We knew that sooner or later we would need a new robot to keep up with the fast pace of robotic combat, so we've been busy! The Gap made it's first combat appearance at the filming of Robot Wars Extreme Warriors in London. The Gap features an enormous pneumatic platform that will lift more than 400 lbs. to a height of 4 feet in a fraction of a second. The platform can also be used to trap unsuspecting opponents against the lower frame and carry them off to their doom. It's one of a kind!
See our newspaper article here: Salem Statesman Journal.
How well did it work? We scored one of the fastest knockouts in the history of Robot Wars (I made it about 4 seconds!) and went toe-to-toe with finalist 'Propellerhead' until we broke a gearbox and landed in 'The Pit'. A great debut!
I was busy driving and repairing Run Away at the competition, so driving The Gap fell to my chief metal fabricator and design consultant, Max Chapin. Max is the owner of the Creative Steel metal fab shop here in Salem and did a fantastic job as a first-time robot combatant.
---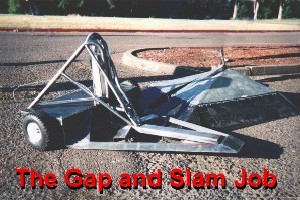 Back in Oregon, we had time to work on the speed and power of our flipper. The Gap won the flipper demonstration at the DaVinci Days technology fair by sending a galvanized trash can up a good 15 feet. We gave out a whole bunch of our new robot trading cards for both The Gap and Run Amok and talked to many fans of combat robotics.

Later that weekend, we went undefeated at the "Oregon Clandestine Street Fight", first taking down a ranked BattleBot heavyweight and then a Robot Wars finalist.

What's next for The Gap? She's ready for a new challenge with new wheel armor and a special 'spinner bumper'. Stay tuned!