The Robot Fighting League was a USA-based organization of combat robot event organizers. Their stated missions were:
to promote the sport of fighting robots;
to provide consistency between events;
to support builders and event organizers.
The RFL was founded in November of 2002 and claimed more than 20 event members from the US and Canada. The RFL had a set of uniform technical regulations for robots entering RFL events, and created standards for describing the suitability of arenas for differing competition types. The RFL hoped to become the official event sanctioning body for the sport.
Robots qualified for the championships by competing in RFL sanctioned events throughout the year.
2005 RFL Championships -- San Francisco, California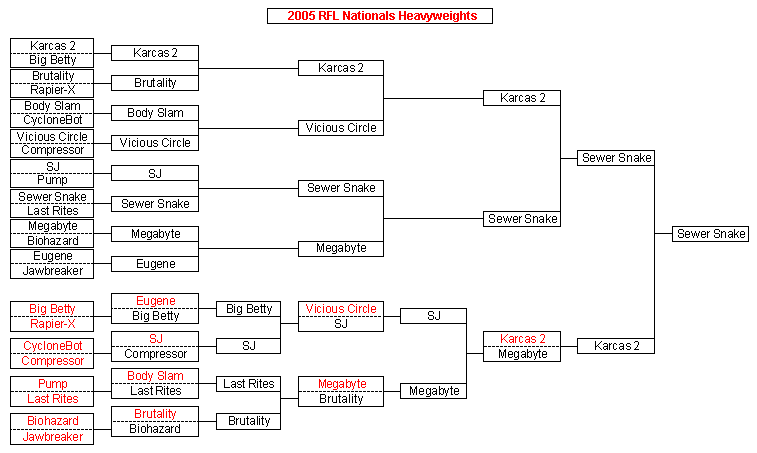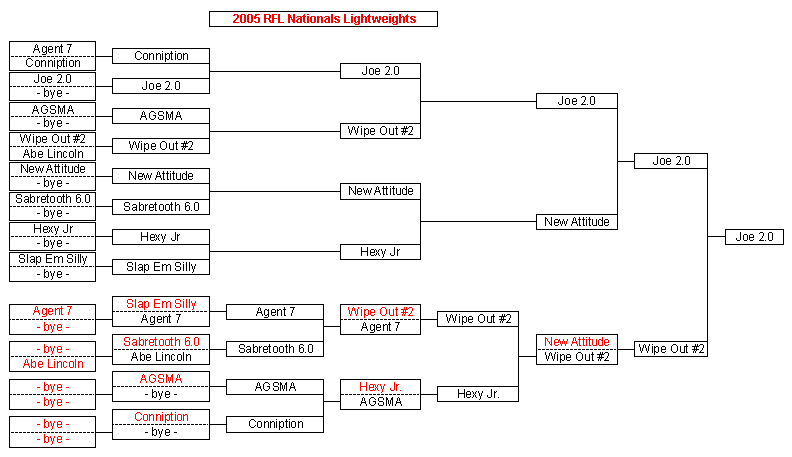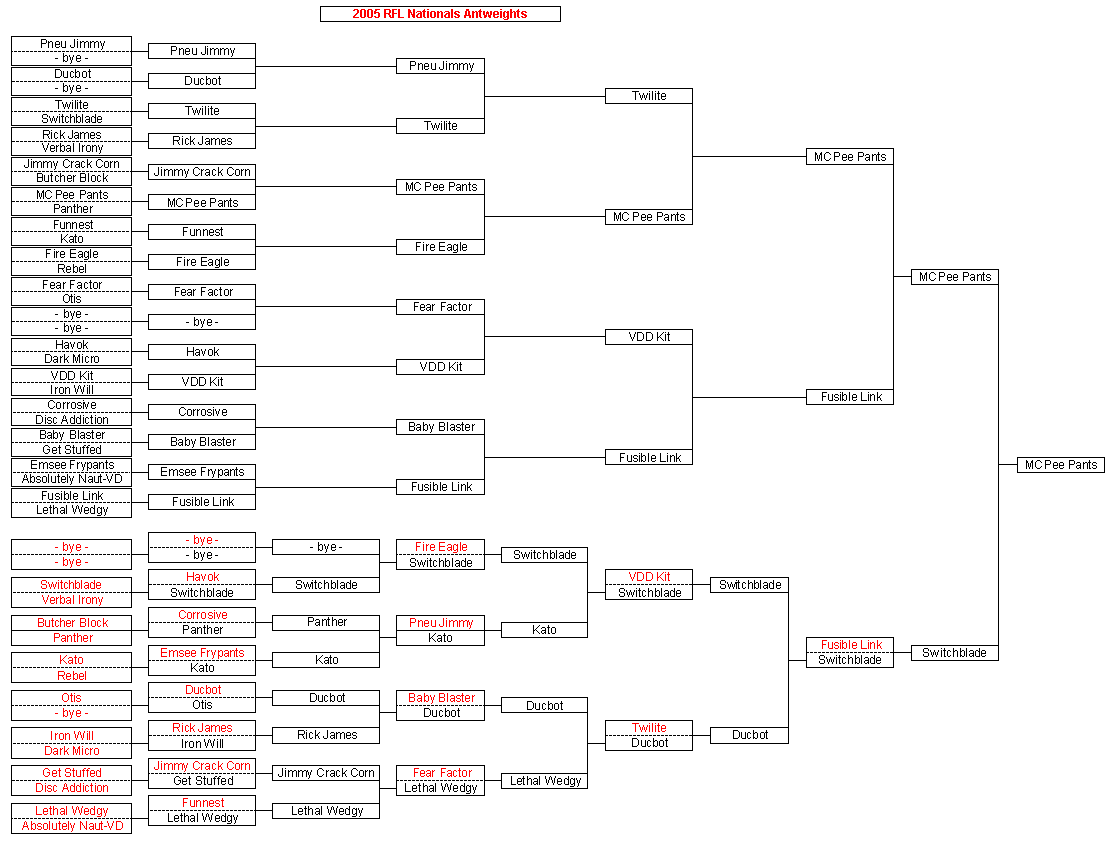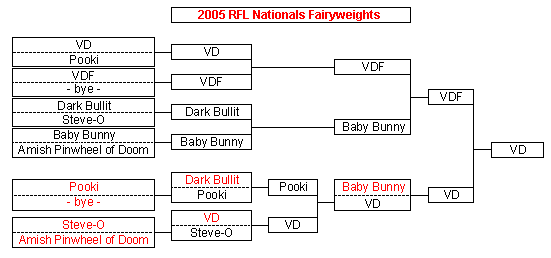 ---


3PD, Abe Lincoln on the Moon, Absolutely Naut-VD, Agent 7, AGSMA, Amish Pinwheel of Doom, Angry Asp, Baby Blaster, Baby Bunny, Beetle from Hell, Big Betty, Biohazard, Body Slam, Brutality, Bullet, Buster, Buster Blade, Butcher Block, Compressor, Conniption, Corrosive, CycloneBot, Dark Bullit, Dark Micro, Devil's Plunger, Disc Addiction, Disc Obsession, Doom on you!, Ducbot, Emsee Frypants, Eugene, Fear Factor, Fear Factor Sr., Fire Eagle, Funnest, Fusible Link, Get Stuffed, Havok, Hexy Jr, Iron Will, Jawbreaker, Jimmy Crack Corn, Joe 2.0, Karcas 2, Kato, Killabyte, Last Rites, Lethal Wedgy, Lil Shocker, MC Pee Pants, Megabyte, Mini Sparkee, Nasty Attitude, New Attitude, Otis, Panther, Pneu Jimmy, Pooki, Pump, Rapier-X, Rebel, Rick James, Sabretooth 6.0, Sandman, Scoopula, Sewer Snake, Shovelhead, SJ, Slap Em Silly, Spatula, Splinterator, Star Hawk 3.0, Steve-O, Super Megabyte, Super Sparky, Switchblade, Target Practice, The Mortician, Total Anarchy 2.5, Totally Offensive, Toxic, Twilite, Unknown Avenger, VD, VDD Kit, VDF, Verbal Irony, Vicious Circle, Wedgio, Wildboar, Wipe Out #2, Ziggy