The 8th annual RoboGames combat tournament took place on April 15th, 2011. A television production crew from Science Channel recorded the heavyweight class matches and edited them into an hour-long program titled "Killer Robots: RoboGames 2011" which premiered on May 30, 2011. Grant Imahara hosted the program which claimed to follow the 16 heavyweight robots that survived the preliminary round of combat.
The tournament tree shown repetedly during the show was a fabrication that stitched together matches from the preliminary round, the losers bracket, and the main bracket of the double-elimination tournament to make up a fictional tournament that greatly distorted the actual event. Why did they lie to the audience?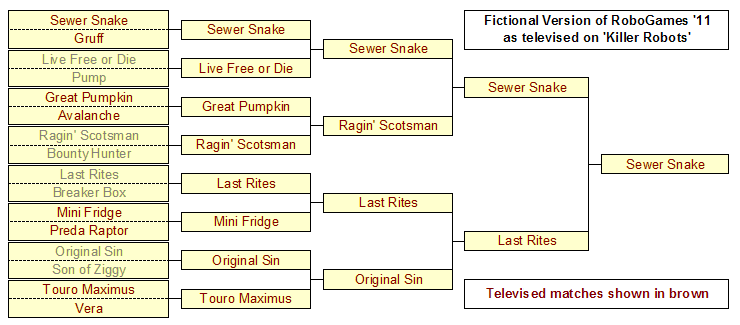 The fictional 'Killer Robots' tree appears above. The actual heavyweight tournament tree appears below.