---
---

The Ask Aaron Archive!
Earlier Q & A about Combat Robotics

---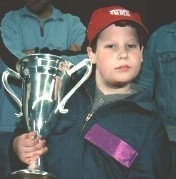 The main 'Ask Aaron' webpage is overflowing! Here are some older answers that my son and team member Aaron Joerger (age 13) gave at the Ask Aaron Main Page that there just isn't room for. Go to the main page to ask Aaron a question about combat robots.
---
Q: The Dutch robots are getting very fierce, how long do you think you'll last against Gravity or do you think you'll win? (A.J Hamilton)
A: We haven't seen Gravity. The Seventh Wars aren't being shown in the U.S. yet, so I can't really say. All flippers are dangerous, but any robot can be beaten.
---
Q: Is there any chance and spare weight to fit wheelguards on The Gap? (A.J. Hamilton)