Something's going on in the UK and I think 'Ask Aaron' is being abused. I'm getting multiple versions of very specific robot design questions about the same layout from the same region of southern England. This sounds to me like a school project assignment, and I'm not interested in doing homework about vaporbots for all of Blighty. See for yourself:
Q: Hi, i have 2 questions to ask
can a robot have 2 wheels that are directly driven by a motor and the other 2 belt driven by the 2 motors?
If the torque calculated requires a motor thats over my budget, i know i can get a motor with less torque but gearing is needed to step up the torque. My question is, can I still directly drive 2 wheels.
I hope this makes sense [London, England]
A: [Mark J.] What's going on? Scan down the page and read the last few questions. I'm seeing a theme here...
The short answers to your questions are:
Yes, this is common practice; and
Yes, this is also common practice.
Take a look at the question immediately below for additional comments on the belt drive layout and gearing motors for greater torque.
---
Q: I need to find a motor that will generate 0.2Nm of torque per wheel for a fightbot. The back 2 wheels will be direct driven from 2 motors, and the front 2 will be belt driven. I have a £50 budget so i know gearing will be required, could you help me choose a good ratio and also how I can find a suitable motor?
what is the best type of wheels for a small robot and which material is best? [Brighton, England]

A: You've given me very little information about your robot. You mention that it is 'small', has two motors, is 4-wheel drive, and requires 0.2 Nm (28 in-oz) of torque per wheel. That is not enough information to answer to your questions. The Hamburger is Bad.
A very small motor with high gear reduction ratio can supply that torque, but your 'bot would be very slow.
A large motor could supply that torque without gear reduction, but might be too heavy for your weight class.
Large diameter wheels will increase the torque requirement, and small diameter wheels will reduce needed torque.
A small combat arena requires a gear ratio that will give less speed and more accelleration than needed for a large arena.
Motors have differing voltage requirements, and your bot's voltage may be limited by rules, design, or other components.
I suggest that you read thru our Optimizing Robot Drivetrains page and follow along with the calculations given there. You didn't mention how you determined that your robot requires 0.2 Nm (28 in-oz) of torque per wheel, but the equations given on the page will walk you thru those calculations and provide a process to determine proper gearing.

Once you have determined your actual torque, speed, and voltage requirements you can look thru gearmotors at on-line robot suppliers in your country -- like 'Robotshop'. A quick search there found a 12V 970RPM Econ Metal Gearmotor that may meet your requirements and budget.

About wheels and tires: There is no single 'best' wheel/tire type. How 'small' is your robot? What type of surface does the arena floor have? How important is traction versus durability? Will the wheels be exposed to direct weapon impacts or are the wheels protected by armor?

There are dozens of posts on wheel and tire selection in the Ask Aaron Materials and Components archive, and for very small robots there are additional posts in the Ants, Beetles, and Fairies archive. Search there for guidance on wheel/tire selection.
---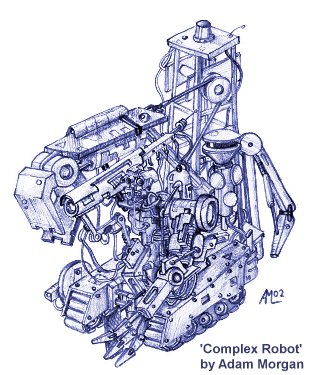 Q: i have to produce a combat fighting robot and my part is weapons electrical, and therefore what calculations do i make as my robot consists of two axes on the sides of the robot and a spinner blade in the middle [Edgware, England]
A: [Mark J.] I can't teach you Mechanical Engineering in a few paragraphs, Edgware -- but I do have a collection of on-line tools and Excel spreadsheets here at runamok.tech that can help with your design calculations:
My website tracking software tells me that you've already visited the Ask Aaron Spinner FAQ. The information in that FAQ should get you well on your way with the central blade spinner calculations.
It looks like you missed the Team Run Amok Electric Hammer Spreadsheet on the 'Combat Robot Design Tools' page. That downloadable Excel spreadsheet will model the performance of your hammer or axe design and allow you to change design elements to see their 'impact' on performance.
Now, let me save you some time. You may have noticed that there are very few successful multi-weapon combat robots. A typical combat robot devotes about 30% of the total weight to weaponry. Slicing up that weight allowance to make three separate weapons will give you three weapons that are each too weak to be effective in your robot's weight class. My strong recommendation is that you concentrate on a single weapon -- simple robots win.

What weapons are most effective in robot combat? The answer may surprize you: What Weapons Win?
---
Q: Hi, if i am building a robot that is 3kg, is there a way of choosing the right wheel radius using calculations or do i just make an assumption. [London, England]
A: [Mark J.] There is no single 'right' wheel radius for a robot of a given weight. For a specific motor and weight, the correct drive train will be a function of wheel radius and gear ratio: larger wheels require greater gear reduction, smaller wheels require less gear reduction. See the post immediately below for links to equations and tools to select the correct combination of motor, gearing, and wheel radius.
---
Q: Hi I am doing a project where I am building a fighting robot and was wondering what the best way is to choose a motor with calculations. The only thing I have to work with is that the mass of the robot is 3kg. What equations do I need to consider [Brighton,&nbspEngland]
A: [Mark J.] I've got a whole webpage on that topic, Brighton: Optimizing Combat Robot Drivetrains.
Once you have the theory down you can automate the selection of drive motors and gear ratios with the on-line Tentacle Drivetrain Calculator.
If you have trouble with the Tentacle Calculator, I have a step-by-step Example Drivetrain Analysis.
---
Q: Hi! My team is building a 15-lb bot. We are going with a kiwi drive holonomic setup and a drum spinner, all powered by brushless motors.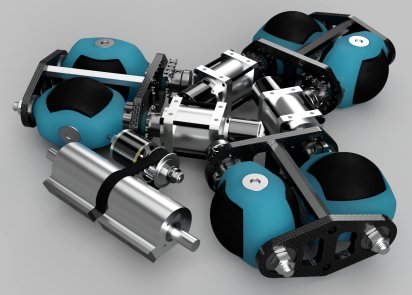 We have calculated that we can use Propdrive 2836 2200kv outrunners with 20:1 gearboxes for our drivetrain, and the same motor with a 2:1 belt drive for the spinner. Since all 4 motors are the same, could we run them off one of the 4 in 1 quadcopter ESCs? (With the requisite firmware flashing, control board, etc.) Something like this. These ESCs are designed for quadcopter use where there is plenty of airflow, but we figure we can manage heat by mounting it to our aluminum chassis with a thermal pad.

Thanks for your help. [Cambridge Massachusetts]

A: [Mark J.] Massive wheels... Tiny drum... But you only asked about the ESC, so let's talk about that.

Yes, you can run all the motors from a single 4-in-1 quadcopter ESC, and the motors don't even need to all be alike. I know of several small 'bots running two drive motors and a dissimilar weapon motor from a single compact quad ESC.

NOTE Quadcopter ESCs in general do not use the common 'PWM' receiver output protocol with one three-wire connector per radio channel. The specific ESC you are considering uses the 'DShot' serial protocol, so you will need a receiver with that type of output. Check the requirements of any quad ESC before you proceed.

Update - I asked some buiders familiar with Quad ESCs about your choice. It seems the APD f-series ESCs may not be programmable for reverse operation. Another builder suggested the Racerstar ReachUP 100A, but I don't have confirmation on useability. Stay tuned.

Q: I give up. How does it work? [Multiple Requests]

A: It's called a Killough Platform -- similar to an omni-wheel in action, but different in structure. The two wheels in each of three cradles are connencted by gears to each other and to a drive motor which can rotate the wheels while they remain oriented at 90 degrees to each other. One of the pair of wheels is always in contact with the floor as they rotate and 'walk' the platform along. The wheels remain free to spin on their own axles and roll sideways to comply with motion imparted by the other two cradles. You can see the action clearly in this video.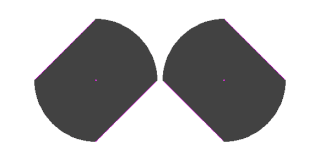 ---
Q: I had a question regarding belts drives for weapons: does belt width matter? For context, I have a 30lb weapon system consisting of 2 15-lb spinners for a 250lb robot and I'm debating (for each spinner) a single belt of either 1/2" or 3/4" in width. Although it seems reasonable to go "the bigger the better", would you find there to be any problems with the 1/2"? Let's just say the smaller size may allows for more compact spacing and such. [U.C. Irvine]

A: [Mark J.] You're not giving me much to work with, Irvine. Before I make a belt recommendation I consider four primary factors:

The type of belt (flat, round, vee, timing);
The distance beween pulley centers;
The speed at which the belt will run; and
The amount of power being transmitted via the belt.
Unfortunately, you shared no information on any of those design factors in your question. The Hamburger is Bad.

I'm also puzzled by the information you did include about your weapon system. Twin 15-pound spinners are very small for a 250-pound combat robot. A typical combat spinner robot might devote 30% of total mass to the weapon system, including the motor. I'm not sure what weapon design you might have in mind that would compensate for that light weight, but an unusual design could alter my belt recommendation.

Best advice: Find a successful robot with a similar weapon design and emulate their belt system. Weapon belt drives are an all-too-common failure point, so base your design on a proven concept.

Q: I had a proposal for multi-layer armor: 3/16" titanium on top with 3/16" kevlar underneath. What do you think?

A: It's tempting to think that layering dissimilar materials might make a composite that has the strengths of each of the materials. What you generally end up with instead is a composite that accentuates the weaknesses of each of the materials, particularly when the materials used do not share similar stiffness.

Search the Ask Aaron Materials and Components Archive for "composite armor" to find multiple discussions on different types of layered armor. My general advice is to avoid the practice.
---
Q: I saw a youtube video of a fight with a beetle named "Droopy" that has two horizontal disks but no wheels. It kinda skates forward on skids, but I dont think its a bristlebot. Can you explain how it moves? [Atlanta, Georgia]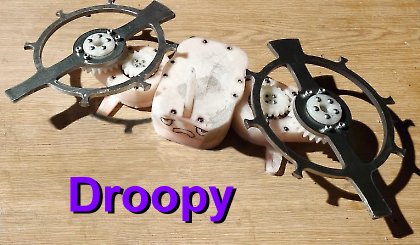 A: [Mark J.] Builder Tommy Wong calls 'Droopy' a gyro walker, but it doesn't work on the same principle as vertical gyro walkers like 'Wrecks'. It's more accurate to call it a torque reaction walker that gets help from a small gyro effect.
When you apply power to a horizontal spinner weapon, the weapon motor apples torque to the spin the weapon in one direction, but it also applies torque in the opposite direction that attempts to spin the robot chassis in the other direction. By increasing and decreasing weapon motor torque you can get the robot to rotate back and forth, but it won't move forward.
Droopy's name gives you a clue about how it turns that torque rotation into forward motion. A perfectly horizontal spinner does not lift the leading wheel when turning like a vertical spinner does, but Droopy's counter-rotating weapon disks each angle down just a bit toward the outer edges of the 'bot. That little bit of 'droop' creates enough gyroscopic force when the 'bot turns to transfer weight off the leading skid and force the 'bot to pivot around the skid more distant from the advancing side.
Add some extra power to the left weapon and that side of the 'bot will lift a bit and pivot forward around the right skid.
Restore weapon power balance and rotation stops.
Add power to the right weapon and it will rotate forward in the same way.
Keep moving weapon power from side to side and the robot 'walks' forward.
It's slow, it can't back up, and it may not get you a weight bonus -- but it's kinda cool.
---
Q: I'm having an issue with my scorpion esc recently to where it will power a motor off of one terminal, but not the other. We are running it off a 3s lipo with the kitbots motors, and in the past it has worked fine. But recently it has had issues running a motor from one of the terminals.

The lights on the scorpion mini esc board will generally light up red or green based on which direction the motor is spinning. For the terminal that's working properly, everything is fine. However, when you connect a motor to the terminal that isn't working, then there are some issues.

If you don't connect anything to the problematic terminal and push the sticks back and forth, the lights will turn green and red (as expected, this is normal). However, the second you connect your motor to the problematic terminal, the red and green indicator lights become extremely dim and there's no output at all. We know it isn't a motor issue because we swapped motors and terminals, and the issue is localized to the one terminal on the esc regardless of which motor is used.

You can connect the motor to the terminal, push forward on the sticks, and then see the light very dimly come on with no response from the motor. And then the second you disconnect the motor, still pushing forward on the sticks, the light shines at its nominal brightness again.

It seems that it's an issue with the ESC. But is this something that can be fixed, or will I have to write off the ESC? [Louisiana State University]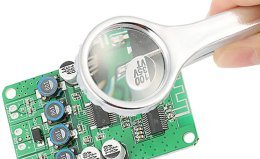 A: [Mark J.] I agree that it's an ESC issue, but your problem is not a standard failure mode for the Scorpion. From your description I'll guess that you have a broken PC board trace and/or a failed solder joint. Break out a magnifier and spend ten minutes examining the copper traces and solder junctions. Keep a lookout for stray scraps of wire that might be shorting something. Pay close attention to the motor connector block in question.
If you can't find anything from your visual examination I'd suggest starting over with a fresh ESC.
P.S. -- I hope you aren't trying to build an 12-pound 'bot for the LSU robot competition around the Scorpion Mini and a pair of KitBots motors.
Reply: Haha, no! This is actually a beetleweight build for the LSU combat robotics club here. But I'm surprised you got word of that competition. We actually are designing a robot for that, too... we have every intention of defeating the senior design students. Maybe you can check it out when the time comes. I'm sure it'll be streamed somewhere.
Response: I've heard quite a bit from competitors in the LSU 12-pound competition -- both here at 'Ask Aaron' and on other forums. Judging from the questions being asked, the competition is being taken quite seriously. Best luck to you.
---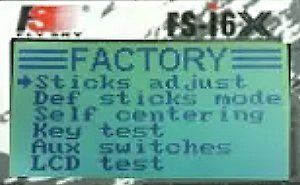 Q: Hello. I need your help. I have a flysky i6x Transmitter and I have accessed the factory menu where I set on the self-centering option and the wherever is the throtle the connection between tx is made with rx. How can I undo that because I can't access the factory menu. Thank you. [Bucharest, Romania]
A: [Mark J.] The Factory Menu is the only method I know for toggling the 'safe start' parameters to allow startup with the throttle centered/down. If you cannot now access the factory menu, reset all of your gimbal trims to zero and try again.
If you are still unable to access the factory menu you can do a Factory reset from the System menu. This will wipe all changes and model settings and return the transmitter to the 'new from box' settings.
---
Q: I have tried looking through the archive, But could not find the specifics.
I am designing a 12 lb hobby weight battle bot with 2 wheel drive. The arena is 8X8 ft and I am trying to find torque calculations for the wheel to spin. Please help. [Louisiana State University]
A: [Mark J.] My visitor log shows that you found appropriate pages here at RunAmok.tech about 30 seconds after you sent in your question -- but you missed the page that gives you the theory to write up for your class project: 'Ask Aaron' is getting a lot of traffic from Baton Rouge, so it looks like your classmates are taking this seriously. Get it right. I understand that this is a 'sumo' type competition -- you might want to read this post on traction in the Ask Aaron Archives.
---

Q: Is it possible to make a hub motor with 3D printed NylonX? I'm afraid it's too weak to survive on full-combat fights. [Taegu, Korea]

A: [Mark J.] As you didn't provide details on the weight class or the design of your proposed weapon, I can't directly comment on the suitability of your fabrication process. The hamburger is bad.

I will say that I see combat robot builders using 3-D printers to produce components that would be much better fabricated by other means. There is a well-known saying often credited to Abraham Maslow that I will paraphrase here:

"If your favorite tool is a hammer, all of your problems resemble nails."

I'll add that I wouldn't personally consider printing stressed full-combat weapon components for anything above the 150-gram class.
---
Q: I'm interested in adding magnet wheels to my next featherweight to add some traction on a steel floored arena. I'm worried that don't see bots larger than beetles running magnet wheels. Should I use chassis magnets instead, or is there a way to get magnet wheels to work for a feather? [Social Media]

A: [Mark J.] Chassis magnets can be more trouble than they are worth, getting you stuck to kickplates, uprights, and even your opponent. Magnet wheels can drive you right out of awkward situations like those, but the neodymium ring magnets themselves are fragile, particularly in larger sizes.

Team Dark Forces has an interesting solution for larger 'bots. Their lightweight spinner 'Dark Ripper' has 2.5" wheels constructed by making a triple-layer sandwich of three ring magnets between four steel washers. Claimed downforce is 50 pounds per wheel. The slightly larger diameter washers protect the brittle magnets and focus the magnetic flux for greater attractive force. The recesses also provide a place for any magnetic swarf the wheels pick up to slide out of the way. I'd suggest bonding the entire 'sandwich' together with epoxy or Goop to keep it in one piece if a magnet does break.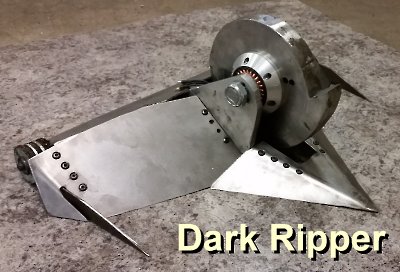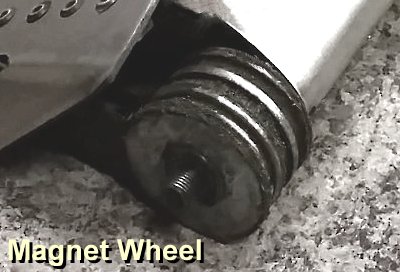 A hard metal wheel like this will transmit a lot of shock when hit. Team Dark Forces belt-drives the wheels to protect the gearboxes from damage. Give them some protection if attaching directly to gearboxes.