The Lotus type Eleven sports racers were built in England from 1956 thru 1958 to compete in the 1100cc racing class. About 250 of the cars were made.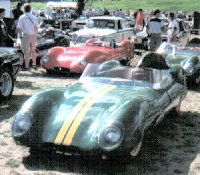 The Elevens won both the 1100cc class and the coveted "index of performance" at the 1957 LeMans 24 hour race. Elevens went on to become the most successful of all the Lotus sports racers.
Westfield Cars, Ltd. of England produced a series of updated Elevens based on the 1957 LeMans racer. About 150 Westfield Elevens were produced from 1982 thru about 1988. Production of a second series ran from 2002 thru 2010.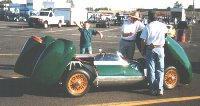 The Westfield chassis is hand made from tubular steel and stressed aluminum panels.
The body is a reproduction of the 1957 Lotus 11 LeMans car, with an optional aerodynamic head fairing. It stands 26" tall at the cowl.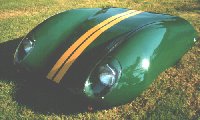 The engine is usually an uprated BMC-"A" series, used by many classic British automobiles including Austin Healey and MG. A few Mazda rotary engines were fitted by the factory, and owners have fitted Coventry Climax, Cosworth, Kent, Lotus, and Alfa engines.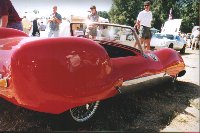 The car weighs a scant 1100 lbs, ready to drive.
What is it like to drive? With a power-to-weight ratio of about 180 h.p. per ton and skinny little 145SR14 tires, the car is steered as much with the throttle as the steering wheel. The tail does come out in hard cornering but it remains very controllable. Turn-in to a corner is freighteningly quick.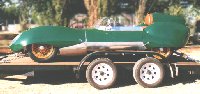 Road & Track magazine built a project Westfield Eleven in 1983. Peter Egan then drove the little Westfield on a 5000 mile cross-country journey and published the story that sold more Westfield Elevens than any other factor.