The Road & Track 1983 Westfield build!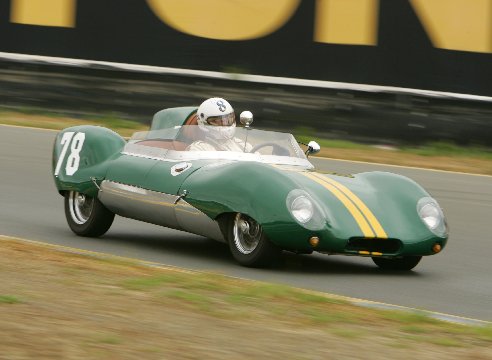 I was reading thru my daily e-mail from the Lotus electronic mailing list one day in late 1994. A new member of the list had written in to introduce himself. His name was Ken Reid, and he listed among his autos "...an unbuilt Westfield Lotus Eleven replica that I'm not sure what I'm going to do with."
A few months later, I'd convinced Ken that what he should do is sell the Westfield to me - and stop ending sentances with a preposition. My Mitusubishi truck was moved out of the garage, and a large pile of "glassfibre and aluminium" took it's place. I figured I'd have it running by summer. I was off by about a year. It rolled out of the door of Hal Jones Automotive in Portland, Oregon on the way to the All-British Field Meet at Portland International Raceway on the morning of August 28, 1996.
---

Status update: I sold my Westfield in November of 2005 to a British car fan in California. Friends tell me I shouldn't have sold it - that I'll miss it. The new owner says I can come visit if I like.

But, there's no time to get sentimental. My replacement car has arrived -- it's another classic British sports racer: a Noble/Auriga Lotus 23b replica. It seriously rocks!
---
Production has ended -- or has it? - The second run of Westfield Elevens has come to a close. However, since Westfield keeps receiving orders for Elevens, kits are still being manufactured in small batches as orders stack up. Manik Technologies of Richardson, Texas remains the exclusive North American distributor for Westfield Sportscars, and you can contact them for information on the Eleven and other Westfield models: www.manikllc.com.
---
The Lotus type Eleven sports racers were built in England from 1956 thru 1958 to compete in the 1100cc racing class. About 250 of the cars were made.

The Elevens won both the 1100cc class and the coveted "index of performance" at the 1957 LeMans 24 hour race. Elevens went on to become the most successful of all the Lotus sports racers.

Westfield Cars, Ltd. of England produced a series of updated Elevens based on the 1957 LeMans racer. About 150 Westfield Elevens were produced from 1982 thru about 1988. Production of a second series ran from 2002 thru 2010.

The Westfield chassis is hand made from tubular steel and stressed aluminum panels.

The body is a reproduction of the 1957 Lotus 11 LeMans car, with an optional aerodynamic head fairing. It stands 26" tall at the cowl.

The engine is usually an uprated BMC-"A" series, used by many classic British automobiles including Austin Healey and MG. A few Mazda rotary engines were fitted by the factory, and owners have fitted Coventry Climax, Cosworth, Kent, Lotus, and Alfa engines.

The car weighs a scant 1100 lbs, ready to drive.

What is it like to drive? With a power-to-weight ratio of about 180 h.p. per ton and skinny little 145SR14 tires, the car is steered as much with the throttle as the steering wheel. The tail does come out in hard cornering but it remains very controllable. Turn-in to a corner is freighteningly quick.

Road & Track magazine built a project Westfield Eleven in 1983. Peter Egan then drove the little Westfield on a 5000 mile cross-country journey and published the story that sold more Westfield Elevens than any other factor.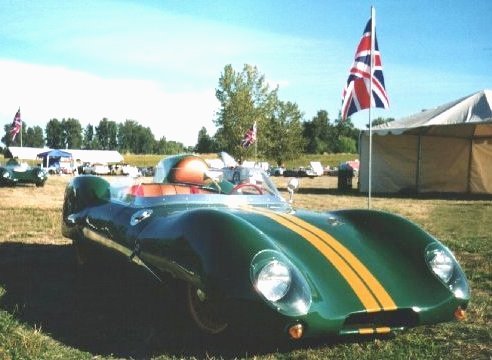 Wheel Base:
Front Track:
Rear Track:
Overall Length:
Overall Width:
Height (top of screen):
Weight:
Brakes:

Steering:
Engine:


88"
45.5"
45"
11' 6.75"
60"
34"
1100 lbs.
8.25" Lockheed disc brakes (front)
7' drum (rear)
Rack and pinion
Typically fitted with a BMC 'A' series 1275 cc 4 cylinder engine. Stock output 65 BHP - modified versions to 120+ BHP.
My special thanks to Brady and Kathleen Joy for their enthusiasm and many long hours of work on this project.
Additional thanks to Don Erickson for talking me into buying my Westfield (it didn't take much talking), and for his long-term support.
You can reach me by e-mail at: joerger@toast.net
---