---
Robotica Competitor Gallery: Season 1
Click:
---
Privacy Policy

Mini Inferno Episode 1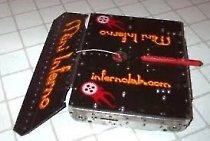 A svelte 37lb of pure drivetrain. Four overvolted DeWalt drill motors packed into a 4" tall carbon fiber/aluminum body with multiple spike & scoop attachment configurations. A pair of Vantec RDFR23 speed controllers run the motors -- one for the front pair and one for the back pair.

Infernolab - Mini Inferno

Killer B Episode 1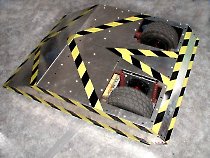 Big go-cart pancake motors, a bundle of NiMh batteries, and a Vantec speed controller combine for plenty of speed and power. The radio gear is bundled in foam to isolate it from vibration and noise, and omniwheels in the front (ASR120/Polyurethane) provide stability and smooth gliding.
Killer B page

Run Amok Episode 1

Spring Breaker Episode 1

Kritical Mass Episode 2

Grimlock Episode 2

Boelter Beast Episode 2

Hot Wheels Episode 2

Ram Force Episode 3

HandsOFF! Episode 3

Pandora Episode 3

Solar Flare Episode 3

Wendingo Episode 4

i-Droid Episode 4

Crisis Management Episode 4

Jawbreaker Episode 4

Noll Episode 5

JuggerBot Episode 5

Hammerschlag Episode 5

Krypler Episode 5

Panzer Episode 6

Malvolio Episode 6

Evil Beaver Episode 6

Viper Episode 6
---

Boxter Alternate


Negative Reinforcement Alternate


Son of a Monkey's Wrench Alternate


The Evicerator Alternate



---

Shrapnel Mascot




Click:
---