Mark Joerger has hung up his turban, shelved his wand, and retired from the public performance of the mystic arts. He continues to consult with other magi and develop new miracles.

His former promotional webpage appears below -- for nostalga.


| | | |
| --- | --- | --- |
| | | |
---

---
More about Mark...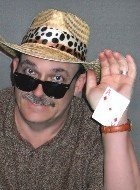 Mark Joerger has lived in Salem, Oregon since 1988. He gave his first magic show to his 2nd grade classmates in 1959. Since then, he has performed at banquets, receptions, trade shows, clubs, and countless private parties. When he isnít working on his magic, Mark is tinkering with his champion combat robots, or polishing his classic English sports/race car.
You can reach Mark by e-mail at: joerger@toast.net
---
I'd like to express my personal thanks to the following magi:
Dick Berry - for the class and charm he brings to his magic...
Chuck Fayne - for displaying no class or charm at all...
Karrell Fox - for giving me the courage to perform...
Martin Gardner - for magic that isnít magic at all...
Phil Goldstein - for scholarship and insight...
Nick Trost - for simplicity and power...
David Williamson - for dementia.


Together, they taught me that magic is much more than doing tricks.
---
A few web sites you might like: