The spinner spreadsheet calculates the spin-up time within a blink of six seconds -- remarkably close to twice the simple 'joules ÷ peak watts' figure.
---
Q: Wait... What's that formula you used to calculate Peak Output Watts? Where did that come from?

A: At stall a Permanent Magnet Direct Current (PMDC) motor produces maximum torque and will consume:

Power Consumption at Stall (Watts) = Voltage × Stall Amperage

The mechanical power output of a motor is a product of torque and RPM. At stall, a PMDC motor produces zero mechanical power: the torque is at maximum but RPM is zero. PMDC motor torque and amperage consumption decrease linearly to approach zero at no-load RPM 1. At maximum no-load RPM the motor again produces zero mechanical power: the RPM is at maximum, but the torque is zero.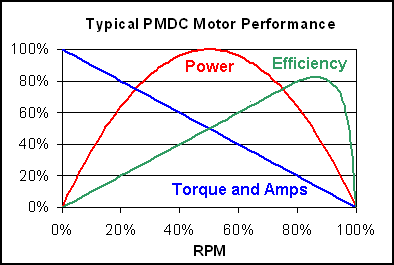 The product of torque and RPM is power, and power reaches maximum at 50% of the no-load RPM where the motor will consume very close to 50% of the stall amperage:

Power Consumption at Peak Output (Watts)
= Voltage × (50% of Stall Amperage)

The efficiency of a PMDC motor in converting electrical power to mechanical power varies with motor design, materials, and RPM. Approximately 50% efficiency at peak output is typical. This gives an estimate of power output as:

Peak Output (Watts) = Voltage × (50% of Stall Amperage) × (50% Efficiency)

The above equation simplifies to the equation I use to estimate peak motor output power:

Peak Output (Watts)
= Voltage × Stall Amperage × 0.25

Brushless motors do not specify a stall amperage figure because it is the brushless motor controller that determines current flow at low motor speeds. However, brushless motor specs do commonly provide a Terminal Resistance that allows you to calculate a theoretical stall amperage:

Stall Amperage
= Voltage ÷ Terminal Resistance

A little algebraic substitution combines the two equations above to provide a one-step shortcut that estimates peak output power from just voltage and terminal resistance:

Peak Output (Watts)
= (Voltage2 ÷ Terminal Resistance) × 0.25
---
Need more info? There are more than 580 questions and answers in the Ask Aaron combat robot motors and controllers archive:

---
To see the most recent questions or to ask a new question, go to the