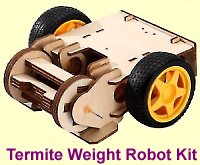 Suprise! Everyone who submitted an entry will receive a Termite Weight Robot Kit!
I decided that giving away just one prize wasn't a big enough celebration for the 20th anniversary of 'Ask Aaron'. All entries that were received prior to midnight on March 15th, 2023 will be contacted by email to arrange for delivery of their kit. Delivery to some non-US addresses may be tricky to work out -- I may substitute a cash prize of equal value.
The actual contest winner is Ethan Harris who correctly identified eleven of the fifteen combat robots. Ethan will receive a termite-weight robot kit and will also have his name added to the Combat Robot Hall of Fame... in a pale font... and well hidden.
'A.' in New Jersey and 'I.M.' in Massachsetts also correctly identified eleven robots, but Ethan's tie-breaker was clearly closer to the mark. I have attached a copy of Ethan's entry at the bottom of the answer key as well as the tie-breakers from Ethan, A., and I.M. so you may judge for yourself.