Servo Latch
---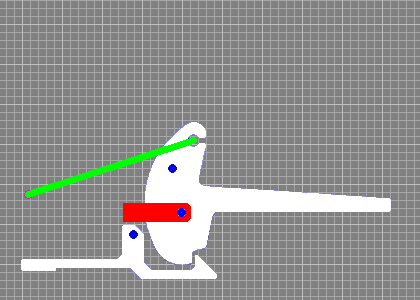 This is an animation of the actual design from UK antweight 'Militant'. The flipper is triggered and reset by servo. The green line represents the elastic bands used to provide tension, and the red rectangle is the servo arm. The flipper arm pivots on an axle that is separate from but coaxial with the servo output. The servo itself is not shown to better display the release/reset action.

To trigger the flip the servo arm moves downward from its rest position to contact a metal pin extending from the catch arm. The plastic catch arm deflects downward, releasing the flipper.

To reset the flipper the servo arm moves upward to contact a metal pin extending from the flipper arm. The servo continues upward, pulling against the elastic and rotating the flipper arm back to the latched position. The servo arm then returns to the rest position.

The mechanism is simple and elegant, but the force placed on the servo increases as it approaches the latched position. Moving the servo off-axis to allow the flipper pin to slide closer to the servo axis along the servo arm as the reset progresses could correct this drawback and reduce the required servo force.

A more complete analysis of the 'Militant' flipper - with photos - is in this archived 'Ask Aaron' Ants, Beetles, and Fairies post.